An unpleasant and painful experience is having a cavity. If left untreated, cavities, which are frequently brought on by a plaque buildup and bacteria on the teeth, can result in decay.
If you begin to feel sensitivity or discomfort in your teeth, this could be an indication that you've got a cavity, even though they can be difficult to find on your own. Cavities can produce unpleasant side effects like extreme sensitivity to both cold and hot foods and drinks and bad breath on top of pain and sensitivity.
To have a cavity treated as soon as possible, you must schedule a visit with your dentist if you believe you may have one.
What is a Cavity?
A cavity, also referred to as decay, is a small opening in the enamel of the tooth brought on by bacteria and plaque accumulation on the teeth.
When oral bacteria, saliva, as well as other food particles come together, they form plaque, which is a sticky substance that sticks to the surface of teeth. If the plaque isn't removed, it can build up, causing the enamel to deteriorate over time by becoming brittle.
Every age group may experience cavities, which are one of the most prevalent dental problems. Although cavities are typically pain-free in the early stages, when they worsen, they can be extremely uncomfortable and painful.
Causes of Cavities
Many different factors can contribute to cavities developing. However, the most prevalent on is poor oral hygience. It is crucial to floss at least once per day, and brush at least twice a day with a fluoride toothpaste.
If this does not happen, plaque will stay on your teeth and wear down your teeth. This will sloly develop into cavities and will need to be taken care of quickly.
On top of not keeping up with your oral hygiene, eating too much sugar and foods high in acid can contribute to cavities as well.
Signs and Symptoms of Cavities
Early on, cavities frequently appear without any obvious symptoms. Nevertheless, as the cavity deepens, you might feel pain and sensitivity there. Additionally, you might observe bad breath, a darkening or discoloration of the teeth, and an increased sensitivity to both hot and cold foods and beverages.
When consuming something sweet or acidic, you might also feel a sharp, shooting pain if you have a cavity. In some instances, cavities can also result in toothaches, gum swelling, an abscess, or a collection of pus in the affected area.
You need to schedule a visit with your dentist right away if you begin to notice any of these signs.
Treating a Cavity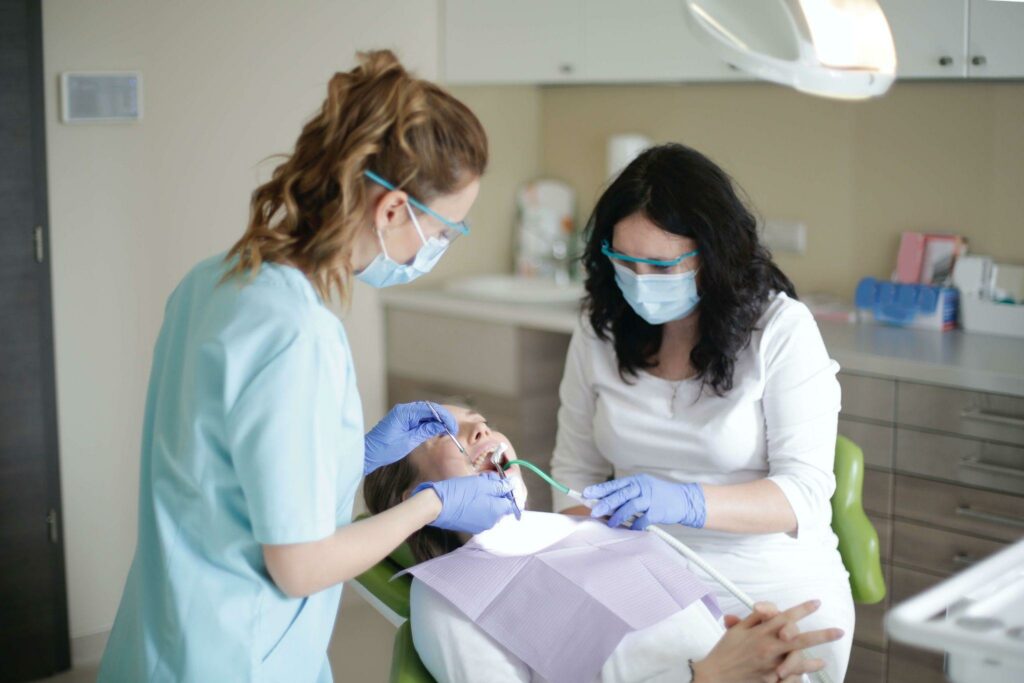 Treating a cavity will vary on the severity it and how long it has been left untreated.
Dental Fillings
Your dentist may well be able to simply fill a small cavity if it is still in the early stages. Fillings serve to repair the tooth's structure and replace the decayed area of the tooth.
Root Canal
A root canal may be necessary if the cavity is more severe in order to remove the decay and restore the tooth.
This is a more invasive treatment that require local anesthesia and the extraction of the tooth's infected pulp. It will require filling and sealing the tooth after the root canal is finished to stop further decay.
Tooth Extraction
If the cavity has become very severe, it may occasionally be necessary to extract the tooth. If so, your dentist can go over other options for restoring the tooth, like dental implants or bridges.
Prevention of Cavities
Keeping your mouth clean is the most effective method of preventing cavities. This entails visiting the dentist for routine checkups and flossing and brushing your teeth at least a couple times each day.
It's important to keep your intake of sugar and acidic foods and beverages to a minimum because they can raise your risk of tooth decay. Increase your intake of minerals such as calcium and magnesium that can strengthen your teeth in addition to maintaining good oral hygiene.
Fluoride, which is present in many varieties of toothpaste and mouthwash, is also an effective cavity preventative.
Foods to Eat and Avoid to Prevent Cavities
To prevent cavities, it is important to maintain a balanced and healthy diet.
Eating foods that are high in calcium and other minerals can help strengthen your teeth and reduce your risk of developing cavities. Foods that are high in calcium include dairy products such as milk and cheese, leafy green vegetables, and nuts and seeds.
It is also important to limit your intake of sugary and acidic foods and drinks. Sugary foods and drinks can increase the risk of cavities due to the bacteria in the mouth, which can feed on the sugar and form plaque on the teeth.
Acidic foods and drinks can also weaken the enamel of the teeth and increase the risk of cavities.
Things To Do At Home To Prevent Cavities
Plenty of things can be done at home to help prevent cavities in addition to maintaining proper dental hygiene and consuming a balanced diet.
A traditional Indian treatment for cavities and other oral health problems is oil pulling. Simply swish a tablespoon of oil (coconut or olive) around your mouth for ten to fifteen minutes to use this remedy. The oil can be helpful in preventing cavities by removing bacteria from the gums and teeth.
Another well-liked home treatment for cavities is to rinse your mouth with a mixture consisting of water and baking soda.
Cavities are less likely because baking soda helps balance the acid in the mouth. To help prevent cavities, you can also use a fluoride-containing mouthwash.
When to See a Dentist for Cavities
You need to schedule a visit with your dentist right away if you notice a cavity. If left untreated, cavities can get worse over time and lead to more serious issues. They can examine your teeth and tell whether you have a cavity or not. Your dentist can advise you on the best course of action to repair your tooth if it has a cavity.
Get Ready to Flash Your Children's Best Smile at Bright Healthy Smiles! Schedule Your Appointment Today!
It's time to show off your brightest smile! At Bright Healthy Smiles Dental, we're dedicated to providing the best dental care for our patients- especially your kids. Our team of experienced and compassionate dentists will help you achieve a beautiful and healthy smile in no time.
We offer a range of services, from dental veneers to orthodontics and more, so you can count on us to take care of all your dental needs. Plus, we ensure that your visit to our office will be enjoyable.
With our state-of-the-art technology and amenities, we'll make sure you leave with a smile.
So don't wait any longer, book an appointment at Bright Healthy Smiles, and get ready to show off your pearly whites!